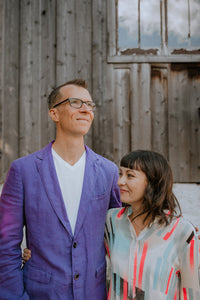 The Sales Retreat
Regular price
Sale price
$1,246.50
---
If you're like many business owners, you are not selling as much as you want to be, given the vision you have for your business and its impact.
There is a way forward, and it doesn't involve hiring an army of sales people.

The problem is in what we call the relationship - process spectrum. Here's what that means:

You either have too rigid of a process with little room for human connection and magic, or you rely too much on relationships, cutting yourself off from new clients in untapped markets.

What you need is a relationship-based sales process. This is the sweet spot of the spectrum where you merge the rigor and effectiveness of a great sales process with the strength and purpose of real relationships. 

And the result is a repeatable way to make more sales, in an authentic and values-aligned way.

Discover how to create your own relationship-based sales process during The Sales Retreat on August 2nd. 
Led by master leadership coaches Erin Aquin and Steve Haase, this workshop will help you craft your own "selling sweet spot" so you can achieve your most ambitious sales goals without overworking your best people.

To develop your relationship-based sales process, you will follow three steps:
Step 1: Pinpoint your selling bottlenecks and determine if they're too much process or relationship

Step 2: Apply the S.A.L.E. framework you will learn in the workshop to unblock your bottlenecks and shift your selling towards the sweet spot for your business

Step 3: Craft your insights into a sales plan that you can execute with your team to start growing the very next day
Without a relationship-based sales process, you're leaving valuable revenue and new business relationships on the table. 

Businesses that have a relationship-based sales process, however, grow much faster without stressing out their best people. Your team will flourish because they are supported with a winning process.

Seats are limited for the training in order to give participants a hands-on experience and plenty of attention. Don't wait and miss out.

Sign up for The Sales Retreat today. Just $997.
And if you want to invite other members of your team, get their seats at a 50% discount per additional team member (discount at checkout).
EARLY BIRD Bonus ($500 value)
Sign up before July 26 and get 30 days of additional access to Erin or Steve via Voxer walkie talkie app (Mon - Thurs) to answer questions after the workshop and tweak your sales process to get it humming.